The morning group is now hitting the track at 6:30 to get things moving and Will & Walt were actually there by about 6:20 today. Most of the A.M. crew did 4 x 1 mile repeats with solid progression through each one. Lighter than usual turnout for the PM although I think some headed over to Clayton. Bill Boben (now 60!) was hammering out the Furman 400s pre-TRI this weekend while Bill Fife was working on his speed with the 200s.  Jay, Jonas, and Becca J. were nicely working together with 12 x 400m w/ progression. Daniel M and Devon with 4 x 1-mile repeats (no injuries requested).  Dan N was running in the AM and running again in the PM 🙂 
Apologies if you were missed but we do our best — you and your watch know you were there!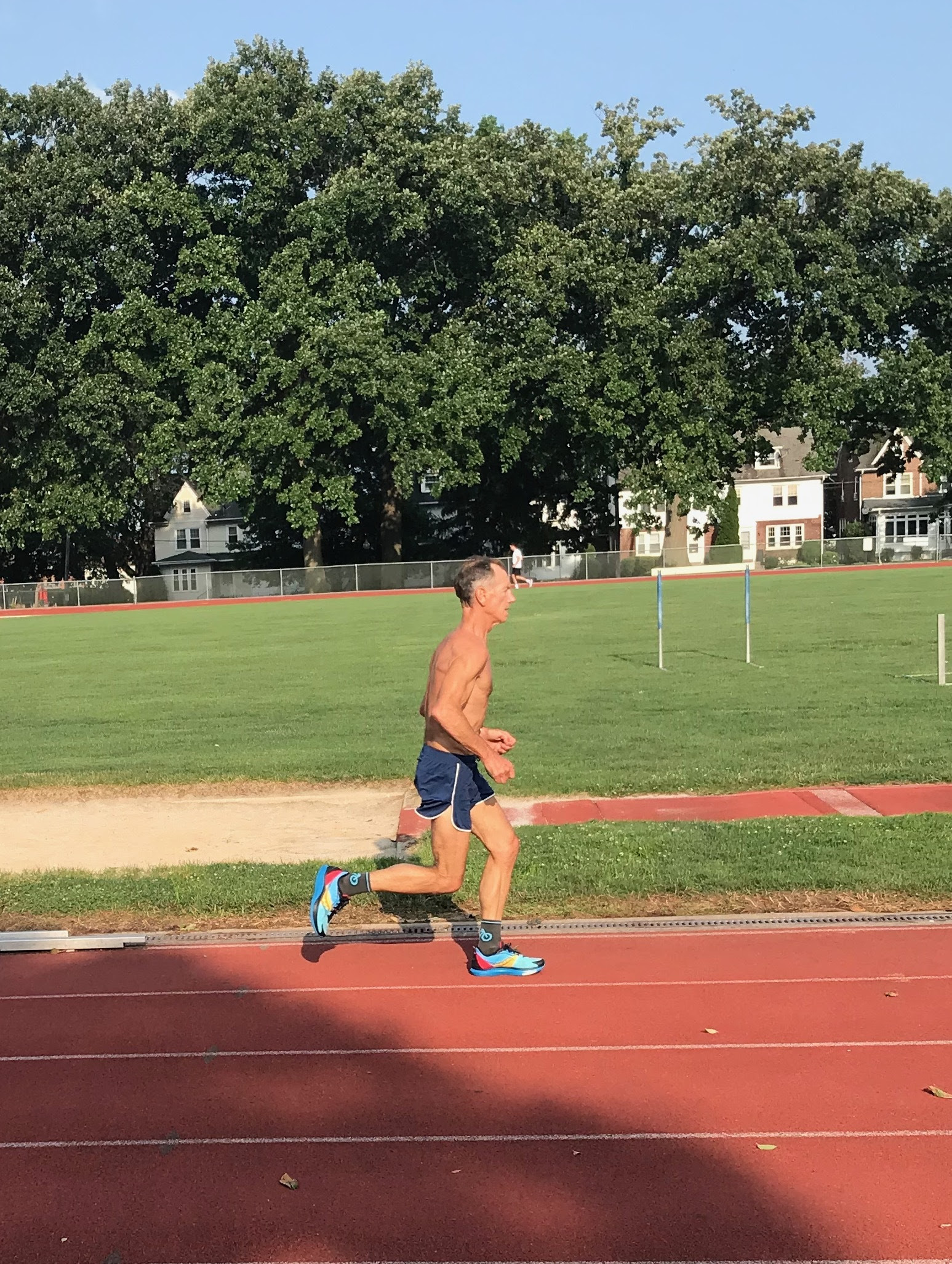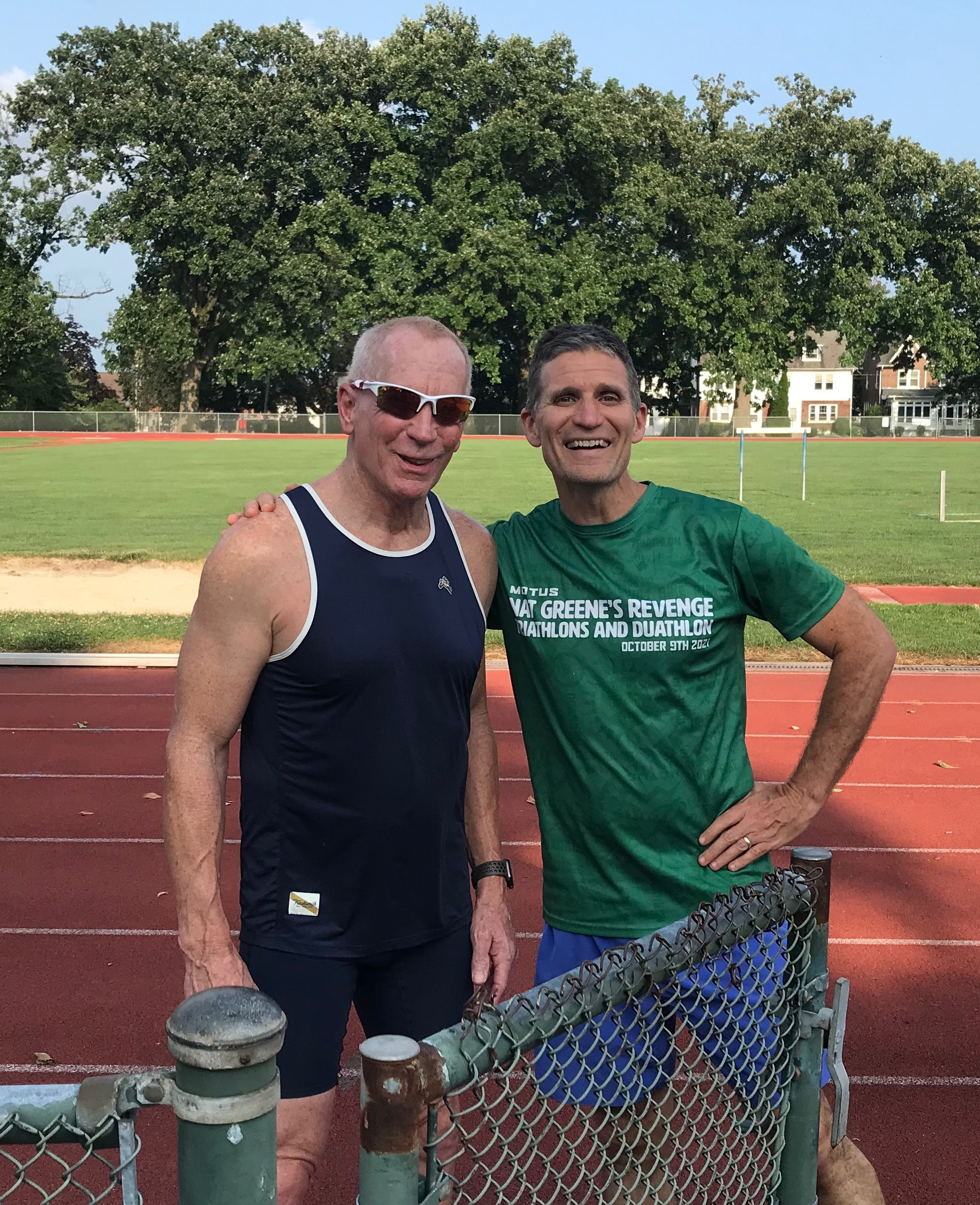 Jonas, Jay and Becca — laughing at those 400s!

The Trials of Miles.. continues through Summer
A.M. Track – Addis, Charles, Dubs, Kirchner, Matthews, Newcomer M, Newcomer W, Paul, Seigford, Spataro, and Thorson

P.M. Track – Arndt & Kirchner (spectating), Boben, Casten, Fife, Harper, Johnson, Kleinhaus, Leaman, Matthews (double), McMillan J, Myers D, Nephin, Noble, Petraco, Roselli, Simmons, Sollenberger A, Sollenberger B, Soto, Stoltzfus (thanks for the water), Richter B+1 (PBR gal), Wallcik, Matula and Roth (Clayton loop)
Check-ins : O'Regan (Flagstaff, AZ), Smoker, Mohler (new grandfather !) Wege (Greece), Delia (Mongolia), Picado-Fallas (Costa Rica), Henderson, Tagg (Iowa) and…
____________________________________
* Reminder – You can RESPOND Directly to Club e-mails with any questions, comments, or suggestions.
* 5000 meter time trial next Tuesday, August 1 @ 7:00 PM at McCaskey HS, Drew and Jay are the race directors. You can register online @ https://www.athletic.net/TrackAndField/meet/518438/info
* Annual FMTC Beer Mile Thursday, August 3rd
Running quote of the week: 
" Get the hell out of my race… and give me those bib numbers !" Jock Semple screaming at Katherine Switzer after spotting her on the Boston Marathon Course, April 19, 1967.
"Marathon Woman – Running the Race to Revolutionize Women's Sports".
by Kathrine Switzer.
---
FMTC – News and Updates Updates
We sadly say farewell to Meg Griffith, a long-time FMTC member and superb runner who has moved with her family to the Pittsburgh area. Meg truly exemplified the work ethic and culture of FMTC. She excelled in everything from the Beer Mile to the Marathon and will be greatly missed.
We have a club discount with Running Warehouse of 10% – for FMTC members only. Our code is – FMTC1121.
You can orderFMTC club apparel including two versions of our branded singlets and short-sleeve running shirts – here is the link
---
Weekend Racing Results
First National Bank Harrisburg Mile, Harrisburg PA
Brian Petraco – 4:36
Adam Moore – 4:46
Andrew Macneil – 4:51 (1st master)
Tim Noble – 4:59 (PR)
Gretchen Stevenson – 6:19
---
Workout Options for Tuesday, July 25th,2023
The morning group will be at the track ready to go by 7:00 AM and 6:00 PM for the evening group. There will be water and cold PRBs for the evening runners.
START: 2 to 3 – mile warm-up + drills/ dynamic stretching / 2-4 strides
3 or 4 – x 1600m with 2 min RI @ 3 – 5 K pace
2 x [ 8 x 200m / 200m jog RI ] 3-minute drink/recovery between sets
Standard: 3 X [ 4 x 400m with 60-sec jog RI ] 3 min between sets
FINISH: 4 x 100m strides, 25 "Kelly" push-ups, 1.6-mile "Campus-loop"
---
FMTC Saturday A.M. Group Runs – with Jay & Company
Leave from the F&M Track Parking lot at 7:00 AM – usually ~ 10 miles.
---
Racing Ahead 2023 (Send me your races)
August 1st – FMTC 5000m PB Races – McCaskey HS Stadium 7:00 PM
August 4th – 14th Annual FMTC Beer Mile SIGN UP HERE
August 12th – Ox Trot 5 Miler, Bowmansville, PA. (tough course!)
August 19th – Cedar Nation 5K, Lebanon PA
August 26th – Ben and Tim's 5K, Hershey, PA (9:00 AM start)
Sept. 16th – 46th Lititz Pretzel Twist 5K
Sept. 17th – Philadelphia Distance Run – 1/2 Marathon
Sept. 25th – York White Rose 5-miler
October 13-14th – Ragnar Relay: Harrisburg to Philly (does someone want to organize a team?)
---
This week's running read: "Marathon Woman" by Kathrine Switzer. c-2007.
With Meg's departure from FMTC, I decided to feature Kay Switzer's book this week. This is a great bio about how she overcame significant odds and some
sexist public ridicule to become the first registered woman to run the Boston Marathon. She had a great running career winning the NYC marathon in 1974 (2:51) and has been a
constant source of motivation and advocacy for women in our sport. She is married to former Boston master's champion and noted author Roger Robinson.

Tracy and Kay – Boston 2007