Running quote of the week: "We are what we repeatedly do. Excellence, then, is not an act – but a habit." —
William J. Durant – on Aristotle.
---
FMTC – News and Updates
If you have any club suggestions, comments, etc., please Respond Directly to me via this club e-mail. We have an FMTC Board meeting on September 7th and are open to input from our members.
WELCOME Anja Elizabeth Richter, born August 10th to FMTC members Becca and husband, Carl!
Team Richter now has 3 members
We have a club discount with Running Warehouse of 10% – for FMTC members only. Our code is – FMTC1121. I have used it twice with success. https://www.runningwarehouse.com
You can orderFMTC club apparel including two versions of our branded singlets and short-sleeve running shirts – here is the link
---
Weekend Racing Results
Oxtror 5-Miler, Bowmansville, PA (tough course!)
Tim Schuler. 35:23. 1st 60-69 AG (Undefeated 60+)
Workout Options for Tuesday, August 15th,2023
Here are the suggested workouts for this week. If you have any personal favorites please feel free to submit them to me to put up. The morning group should be at the track ready to go by 6:30-7:00 AM and the evening group by 6:00 PM. There will be water and PRBs for the evening runners.
START: 2 to 3 – mile warm-up + drills/ dynamic stretching / 2-4 strides
12 x 300m with 100m jog RI on the straight; then 1 mile @ 5K pace
16 x 1 minute "on" then 1 minute "off" – "on" @ least 5K pace
Standard: 3 x [ 4 x 400m with 60-sec jog RI ] 3 min between sets
FINISH: 4 x 100m strides, 25 "Kelly" push-ups, 1.6-mile "Campus-loop"
---
FMTC Saturday A.M. Group Runs – with Jay & Company
Leave from the F&M Track Parking lot at 7:00 AM – usually ~ 10 miles.
---
Racing Ahead 2023 (Send me your races)
August 19th – Cedar Nation 5K, Lebanon, PA (Supports LHS XC Team)
https://runsignup.com/Race/PA/Lebanon/CedarNation5k
August 25-26 – Hood to Coast Relay (Oregon)
August 26th – 32nd Ben and Tim's 5K, Hershey, PA (9:00 AM)
August 26th – Amos Herr Honey Run, Landisville, PA
August 27th – Budapest 10K (Sam and Alyssa are in)
Sept. 9th – Bird-in-Hand 1/2 Marathon
Sept. 16th – 46th Lititz Pretzel Twist 5K
Sept. 17th – Philadelphia Distance Run – 1/2 Marathon
Sept. 17th – USATF Masters 12 km Championships, Highland, NJ
Sept. 23rd – 46th York White Rose 5-miler
Sept. 30th – Hands-on House 1/2 Marathon
World Track and Field Championships from Budapest
August 19 – 27 at the National Athletics Centre in Budapest, Hungary

… ..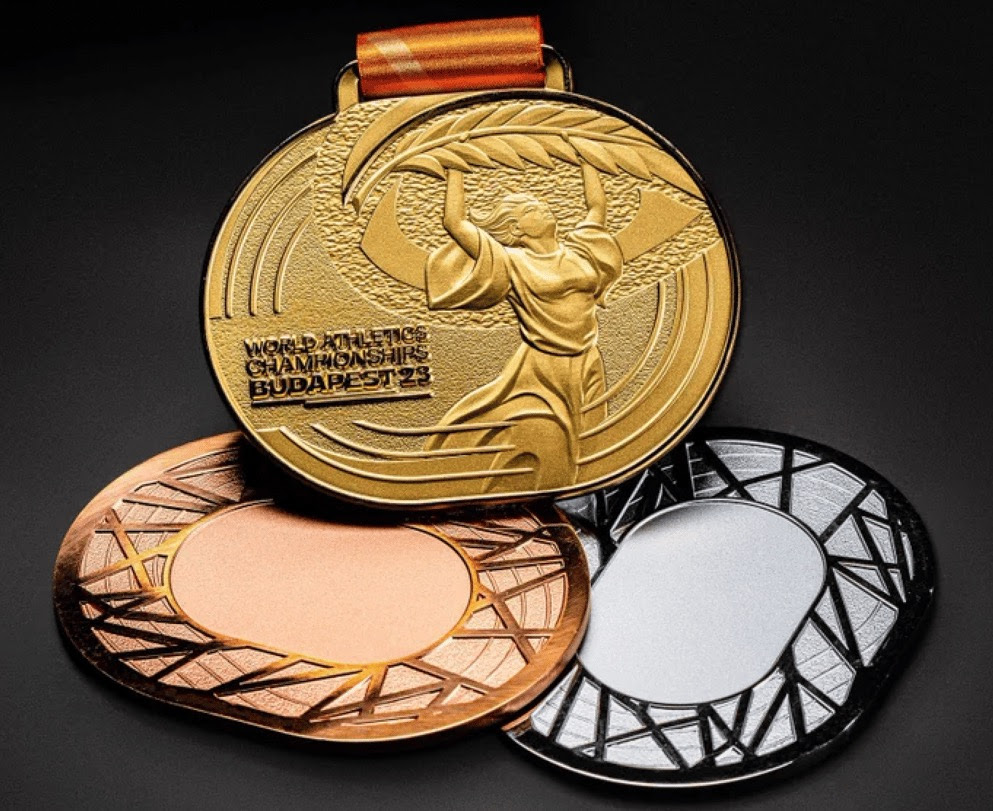 U.S. Men's Team (in order of placing at USA's)
100: Cravont Charleston, Christian Coleman, Noah Lyles, ¶Fred Kerley
200: Erriyon Knighton, Kenny Bednarek, Courtney Lindsey, ¶Noah Lyles
400: Bryce Deadmon, Vernon Norwood, Quincy Hall, ¶Michael Norman
800: Bryce Hoppel, Isaiah Harris, Clayton Murphy
1500: Yared Nuguse , Joe Waskom , Cole Hocker
Steeple: Kenneth Rooks, Benard Keter, Isaac Updike
5000: Abdihamid Nur, Paul Chelimo, Sean McGorty
10,000: Woody Kincaid, Joe Klecker, Sean McGorty
110H: Daniel Roberts, Cordell Tinch, Freddie Crittenden, ¶Grant Holloway**
400H: Rai Benjamin, CJ Allen, Trevor Bassitt
Marathon: Elkanah Kibet, Zach Panning, Nico Montanez
U.S. Women's Team
100: Sha'Carri Richardson, Brittany Brown, Tamari Davis
200: Gabby Thomas), Richardson, Kayla White
400: Sydney McLaughlin-, Britton Wilson, Talitha Diggs
800: Nia Akins, Raevyn Rogers, Kaela Edwards, ¶Athing Mu*
1500: Nikki Hiltz, Cory McGee, Sinclaire Johnson*
Steeple: Krissy Gear, Emma Coburn, Courtney Wayment
5000: Elise Cranny, Alicia Monson, Natosha Rogers
10,000: E. Cranny, A. Monson, N. Rogers*
100H: Nia Ali , Keni Harrison, Masai Russell
400H: Shamier Little (1), Dalilah Muhammad(2), Anna Cockrell
Marathon: Keira D'Amato*, Lindsay Flanagan*, Susanna Sullivan
This week's running read:
Watch the World Championships