Great reporting by Dan Nephin for today's recap. Thank you!

Under a blood-red sky, a crowd has gathered … at F&M Tuesday track, where, in fact, the sky was blue and the humidity low. Enjoy it while you can. Attendance duties brought to you by Nephin who has that disease where you know people's names UNTIL you have to write them down.
So it was that he found himself panic-stricken when he couldn't remember Jeremy Matula's surname, which is important because regular attendance-takers Ashley and Brandi Sollenberger have a handy cheat sheet in surname alphabetical order. After three reads, it came to him. In addition to Matula, there were other eponym episodes that shall go unnamed. 😉
A turnout of 40+, with many heading to Cartel for pizza and beers after. Since no post-track parking lot beers were involved, we can fairly assume that all beers consumed: after all who would dump a beer purchased? AM Crew – Bell (new grandson!!), Dubs, Sarah H, Kirchner, W Newcomer, Seigford, A Sollenberger, Spataro, Wege
At PM track: Doug Arndt (thanks for the "taxi" beer), Bill Boben (on a lust-object, matte-black, single-fork Cannondale), Will Charles, Sam Gerstenbacher, Ryan Gehman, Greg Harper, Nate Henderson, Sara Delia-Hickie (but did a.m.), Ben Hahn, Becca Johnson, Cody Kalinowski (with newbie Quinn Fox – Cody: get her email to Jeff if she'll return. Denise showed her the ropes), Pat Lafferty (said I could "check w/ (his) mom" that he did workout. I got scared so I didn't push it. 😉 ) Dave Lehman, Tom Luff, Jacob Lyles (new guy, neglected to get email) Andrew MacNeill, John Matthews, McMillan & Wife (who remembers THAT show?) Glenn Mohler, Daniel Myers, yours truly, Walter Newcomer (a.m., but p.m. track presence noted) Tim Noble, Katie O'Regan, Brian Petraco, Becca and Carl Richter, Troy Rissinger, Anthony Roselli, Scott Roth, Zach Simmons, Jason Smoker, Devon Soto, Jonas Stoltzfus, Nathan Tagg, Jake Thorsen, Otis Ubriaco, Ben Zook, Check in – Kleinhaus
I apologize for misses. No Cartel attendance, but I know about two-dozen were in for pizza and beers.
THANKS DAN !! for your journalistic excellence – perhaps Pulitzer worthy if you can keep it up.
REMINDER to ALL FMTC — Gordie Kraft Track Meet at McCaskey HS Track (only AM practice at F&M)
jeff
Running quote of the week:
"The question most often asked about running is whether or not it does any physical harm. I have never found any cases where it hurt anyone who is nearly normal" – Clarence Demar "Marathon" …see below
---
FMTC Updates / News
This Tuesday – FMTC Post-workout gathering at Cartel Brewing on N. Prince St 7-9 PM; stop by even if you can't make it to the track. Sarah and Becca are hosting, and Pizza will be provided.
Welcome to the newest FMTC member Nathan Henderson. Nathan ran at McCaskey and Syracuse and recently won the Red Rose. Also our second sub-4-minute miler (Luke Watson was first)
You can order at the FMTC club store for apparel including singlets and short-sleeve running shirts – here is the link
Lancaster Track Club will hold an open meet at McCaskey HS on June 27th that will feature an 800, Mile, and 5000. Registration is from 5:00 – 5:45 and the events start at 6:00 PM. We are encouraging full club support – running or spectating.
---
Weekend Racing Results
62nd Mount Washington Road Race. Gorham, NH
Katie O'Regan 1:21:11 7th overall female (PA state record)
Laura Brenner 1:31:23

Katie at the summit/finish of Saturday's race in NH
Eagleman 1/2 Ironman Triathlon, Cambridge, MD
Drew Nesbitt 4:10:29 (8th overall and World qualifier)
Stephen Welsh 4: 20:39 (24th overall and World qualifier)
Smiths Challenge Trail Race
Sarah Delia 42:35. 2nd female
Third Thirsty Thursday 5k (Reading PA)
Sam Dever 18:47
Alyssa Dever 18:55 1st female
OBX Lighthouse 5K, Currituck, NC
Devon Soto – 16:54. 1st overall
---
Workout Options for Tuesday, June 20th, 2023
Track sessions are at 7:00 AM and 6:00 PM. Optional coffee in the AM. Water (thanks Jason) and PBRs post-workout are provided in the PM – although this week go to Cartel Brewing after your cool down.
START: 2 to 3 – mile warm-up + drills/ dynamic stretching / 2-4 strides
2 X [ 600m/ 500m/ 400m/ 300m/ 200m] with jog RI at same distance]
2 X 2-miles run at your 10K pace with 2 to 3- minutes to rehydrate / RI
Standard: 3 or 4 x [4 x 400m with 60 sec RI] 3 min between sets
FINISH: 4 x 100m strides, 25 "Kelly" push-ups, 1.6-mile "Campus-loop"
---
FMTC Saturday A.M. Group Runs – with Jay and company
Leave from the F&M Track Parking lot at 7:00 AM – usually ~ 10 miles.
---
Racing Ahead 2023 (Send me your races)
June 24th – Rotary Wheels and Wings 5K, Lititz, PA. 7:30 AM
June 27th – LTC All-Comers Meet #2 at McCaskey HS Track
June 30th – Diamond League Meet in Lausanne, Switzerland (TV)
July 8th – Abogar 1:27 Run 5K – East Berlin, PA – https://abogarim.org/abogar-127-run/
July 19th – Harrisburg Mile, Harrisburg, PA. Heats start at 6 PM
August 26th – Ben and Tim's 5K, Hershey, PA
Sept. 25th – York White Rose 5-miler
---
Recommended Running Read – "Marathon" – by Clarence DeMar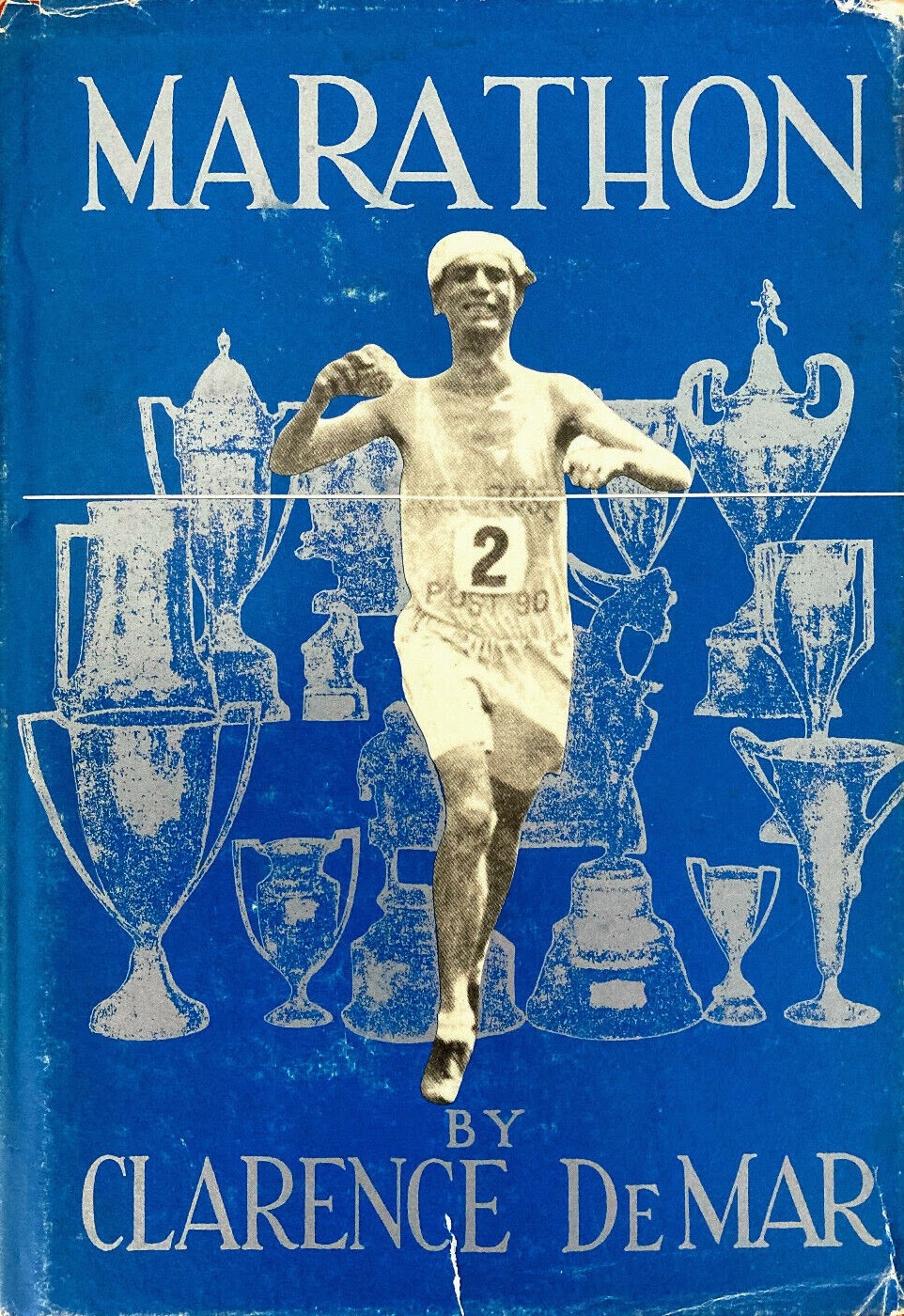 One of our FMTC guys is doing the Clarence Demar Marathon this Fall in New Hampshire so I pulled this one off my shelf. Demar ran Boston 34 times, WON it 7 times, and was TOP TEN 15 times. He was also a 3-time Olympian in the marathon. His real job was as a typesetter, husband, and father. He never followed any traditional training schedule and ran his last marathon at age 66. The 1st edition was published in 1937, rediscovered, and republished in 1981, then again in 2016 (paperback). It is available at Amazon Books and I highly recommend it.